T-Stats has been built specifically to collect (and share) data with some of the most important businesses operating in your tourism sector: accommodation and attractions. The aim is to encourage a two-way flow of information. Accommodation and attractions provide some key operating data, such as rooms sold and visitor numbers respectively, and in return they can benchmark their performance against the accommodation and attractions sectors in general, and also benefit from other data that are available in the T-Stats system.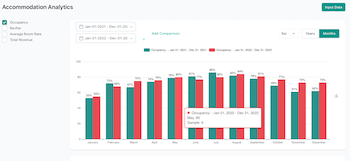 Accommodation establishments or attractions can track their own performance, such as room occupancy rate, average room rate and RevPAR. They can also compare their performance against their peer groups such as a pre-defined comparative set of three+ hotels, or other accommodation groups defined by grade, location, etc. Attractions can undertake similar analysis, but the focus is on visitor numbers.
T-Stats makes it very easy for businesses to record their data in T-Stats. All they need to do is select the month for which they are entering data, and for:
accommodation: enter the number of rooms available and sold, and room revenue (optional)
attractions: enter the number of visitors, and visitor revenue (optional)
It is that simple! On average, it takes businesses around 3 minutes a month to do this, and the huge benefit of the T-Stats system is theirs in return.