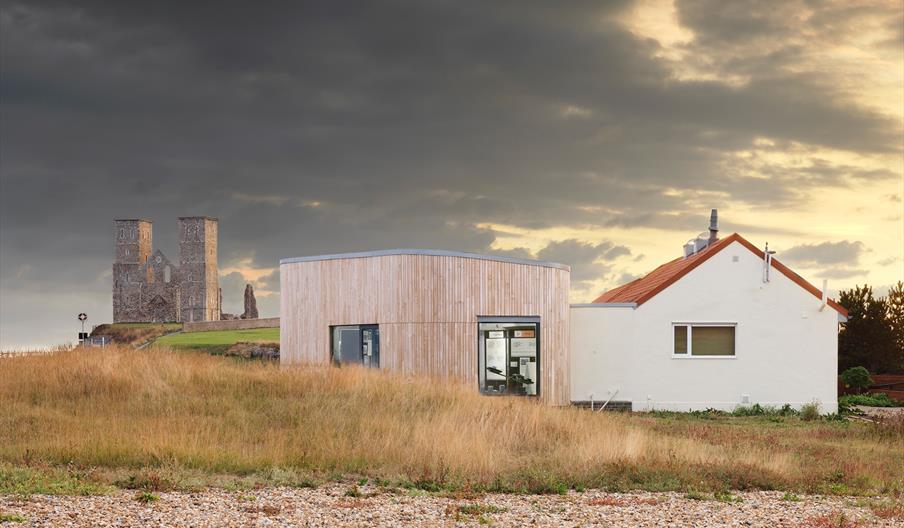 About
Summary
Reculver is an historic settlement situated on the North Kent Coast, between Herne Bay and Margate. It has a rich history stemming from Roman times with human activity closely tied to the moving coastline, Christianity and, more recently, leisure. A Roman fort and ruined Saxon Church form a Scheduled Ancient Monument that is highly regarded as a key landmark in the area.
Reculver had reached a key point in its history as it has been highlighted as a potential strategic hub for a wider regional tourism and leisure strategy, especially for so-called 'green tourism'. There were several projects just starting to improve cycle links connecting the Viking Coastal Trail to National Cycle Route 1 at Seasalter. The existing Country Park Visitor Centre has been allocated monies for a much-needed extension to continue its development of educational work and highlight sustainability. The existing businesses - caravan parks, cafe, shop and public house were having to adjust to a shift in the profile of the visitor that was coming to Reculver and were considering how to invest and develop for the future.
In order to analyse and address these issues, as well as seeking to optimise the understanding and usage of the existing natural and historic assets, Acorn Tourism worked with Allen Scott to develop a masterplan for the future of Reculver.
Our Approach
The process developing the master plan vision was iterative and consultation was an important element throughout the process, with individual meetings as well as holding a stakeholder workshop. There were many policies and strategies that affected the site on a regional, local and detail level. A review of these was undertaken and a critical analysis of the issues informed our proposals.
Our detailed analysis of the access routes and linkages, market trends and market segmentation, identified a range of new markets for Reculver: bird watching, new types of camping and caravanning, cycling, education and learning, fishing and walking. With suitable product development, and ensuring the infrastructure was accessible-for-all, there was a clear opportunity to refocus Reculver Country Park and develop it into a hub for green tourism.
The aim of this master plan was to provide a clear, realistic and flexible framework for implementing changes to the physical environment as well as the perception and management of the Reculver area. It was intended to be complimentary to the projects already in existence and to work with the aspirations of the existing stakeholders while addressing wider strategic issues.
Outcome
The Master Plan Report consisted of two volumes. Volume 1 set out the background, analysis and general proposals for the master plan. It was intended to be a complete document that gave the reader a clear overview of the issues. Volume 2 was intended to be a flexible 'live' document that could be amended or added to on an ongoing basis. It consisted of a series of project plans that made up the overall masterplan. However, depending on funding or changes in approach these projects could be implemented individually or in groups.
One of the key recommendations, to build a new visitor centre that was fit for purposed, was taken forward and a new visitor centre was built one year later.
Directions