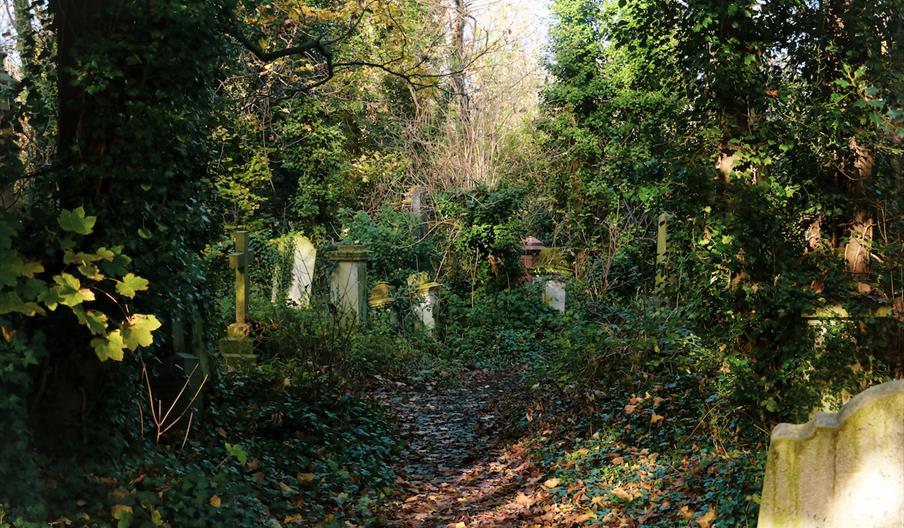 About
Summary
Abney Park is one of Hackney's finest green spaces and is listed as a Grade II park on the Historic England Register of Parks and Gardens of Historic Interest. As one of the 'Magnificent 7' cemeteries in London, it is the resting place of around 200,000 people in 60,000 graves which range from elaborate monuments to path side common grave markers. No longer a working cemetery, Abney Park is run as a park and is a Site of Metropolitan Importance for Biodiversity. It is one of London's most central woodlands and has a non-denominational chapel at its core, which was open to all, regardless of religious conviction.
The Conservation Plan collated the current understanding about Abney Park, specifically drawing together and building upon all information on the built and natural history of the site. It explains why Abney Park is significant and to whom. It identified potential commercial and community uses for the park's buildings and provided a basis for a design team for the Abney Park Development Board's 'Parks for People' Heritage Lottery Fund bid. It was also be a useful day-to-day tool to guide the management and maintenance of the Park.
Our Approach
Acorn, working with Conservation Management Plan specialists ACTA, focused on the opportunities for preserving or improving the significance of the heritage of the historic buildings and increasing access and providing better recreational facilities.
We undertook focused consultation to ensure that the Plan reflected the awareness and value the local community places on the cemetery's heritage and conservation assets. The consultation phase included a range of inclusive methods:
Identification of a wide range of stakeholders from the local community who should participate within the planning process.
Delivery of consultation with stakeholders on the heritage and Park's importance.
An outline of local use and value of the Park and its heritage.
Exploration of problems and opportunities which stakeholders currently face when engaging with the Park and its heritage.
Fostering project support through strong consultation and engagement with the Abney Park Trust and Abney Park User Group ("APUG").
Consultation with Council staff and Abney Park Trust staff and members.
Outcome
The findings from the consultations highlighted what made Abney Park special for the local community and the potential income streams that could be generated to support the development of the cemetery in the future, and the related infrastructure investment required.
The potential income streams included community and corporate volunteering, outdoor events, the use of the buildings, private tours, Commonwealth War Graves Commission and private grave maintenance, and consultancy by staff experts.
The recommendation in the Conservation Management Plan have been used to inform the Abney Park Cemetery Business Plan. The chapel and cemetery are now being restored.
Directions