The Green Destinations Top 100 Stories competition was launched in 2014. The aim of the competition is to promote and share the amazing stories of 100 different destinations worldwide to help inspire others to follow suit. The stories are separated into different themes, and it acts as a starting point for destinations who have started to implement sustainable practices and principles into their operations and are interested in working towards destination certification.
At Acorn Tourism we sponsored the fee waiver scheme for the Green Destinations Top 100 Stories competition for the second year. This has enabled 6 destinations to enter the competition, who could not otherwise be able to afford to participate in the competition.
In addition to sponsoring the fee waiver scheme, we have supported the destination managers through the application process as part of our existing project work with destinations. The most recent being Aqaba in Jordan, read more about the Green Destinations Top 100 Stories list for 2023 here.
We have seen first-hand, through our support with Aqaba, how entering this competition highlights the benefits and value of responsible tourism amongst destination stakeholders, DMO staff, local communities, and local government. Not only can it build international awareness of a destination, but it may also incentivise other local destinations and businesses alike to follow suit and start their sustainability journey.
An example of this is the Azraq Wetland Reserve in Jordan who, in last year's competition came top of their category, Nature & Scenery, read more about their story here. This success created several changes locally, including awareness raising and changes local tourism policy and development plans. It also played a significant part in incentivising Aqaba's destination managers to apply for this year's competition.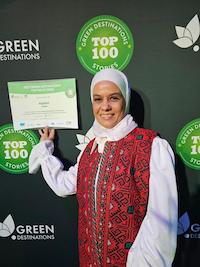 In October Aqaba learned that they had been selected as one of the global Green Destinations Top 100 Best Practice Stories and Thalma Radwan, the Sustainability Coordinator who led the submission was invited to speak at the conference in Tallin in October. This has added to the local pride and motivation of the Aqaba's stakeholder to work towards full destination certification.
A quote from Thalma Radwan at ASEZA about her recent application for the competition: "It has been a great experience for me to start the journey with Green Destinations, starting with filling the 15 criteria, then writing the story. It was just great experience to gather all the information that could lead Aqaba to being on the right track to becoming a greener destination. We are proud to be listed one of the green destination top 100 stories 2023!"
The 2024 interest for application is now open, so you can start your journey and help to build local awareness and incentivise others to take these small steps too. Find out more and register you interest here.
Feel free to contact us as Green Destinations Representatives to find out more about the Top 100 Competition and the Certification and Awards Programs.
Related
0 Comments