As food plays a central part in the lives of all people on the planet and local specialities are widely appreciated as an intrinsic feature of many cultures, it is now well understood that local cuisines play an important role in offering the visitor an authentic insight into the culture of a place. Food culture is highly rated from a global perspective and is often one of the main reasons that travellers choose to visit a destination. Tasting experiences and learning about local cuisines from field to fork are extremely popular activities whilst on a trip abroad. So important has food become to a destination's culture that UNESCO began including food tradition on its Intangible Cultural Heritage list from 2008, rendering it as important as many other influential cultural traditions.
Post-pandemic, the outlook for food tourism remains good. As the sector has become one of the world's largest tourism niches, 96% of food tourism experts are optimistic that the food travel industry will continue on its growth trajectory over the next two years, according to the World Food Travel Association (WFTA).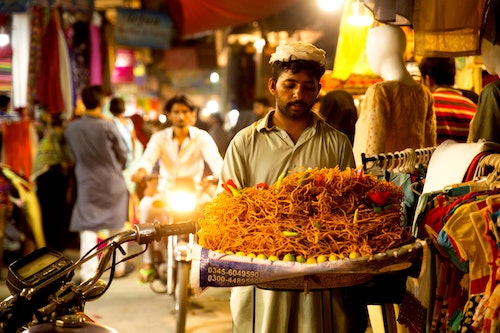 The opportunities for local tour operators in developing countries to create enticing food travel products that stand out from the crowd are numerous. Street stalls, food markets, visits to artisan producers, tastings local specialities, local wine/beer trails, food festivals and hands-on experiences like cooking classes or staying overnight with and preparing food with a local family are all examples of food tourism that has a huge scope for development. Growth is set to be driven in particular by the Millennials, forecasts the WFTA, with 77% stating they like to take trips to enjoy memorable eating and drinking experiences. With Gen Z following hot on their heels choosing authentic experiences that can be widely shared on social media, food tourism is likely to be a winner for the tourism industry as the sector begins to recover.
For more than a decade Acorn Tourism has been working with destinations to help them develop their food tourism offer. This sector helps to generate visitor satisfaction, develop cross sector linkages and support local supply chains as well as creating great stories to share.
Our Local Producers Guide for South East England is still being used by stakeholders and food and wine tourism was also a key element of the Destination Management Plan we developed for Wealden District Council. In Ireland, the home hosting culinary experiences we created with local producers put Ireland on the map for Traveling Spoon the home hosting Online Travel Agent. In Belize the diverse cultures and their culinary offer proved to be the foundation of creating a collaborative approach to developing Cultural Flavors of Toledo tourism corridor.
If you would like discuss how food tourism could benefit your destination do contact us.
Related
0 Comments