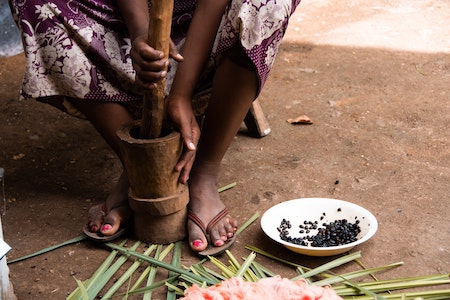 "A good friend, Alison Burgh of Acorn Tourism Consulting, introduced me to the Traveling Spoon team. I got to know Alison while working on the production of tourism marketing materials for the Ethiopian Tourism Organization. I also organized a trip for Alison and her husband David to the Danakil Depression whereby they came to my home and had dinner with my family.
Looking at the Traveling Spoon website and the opportunities it offered, both myself and my wife, Tigist, decided to become hosts, so we could meet people from all over the world with different cultural backgrounds. I had a phone call with the Traveling Spoon team and completed the application form online with my family profile. The Traveling Spoon Ambassadors then visited us, took pictures and forwarded them to the Traveling Spoon team with their review that you can find on our profile. We had a wonderful time with them.
With the Traveling Spoon team we set the price for the experiences we could offer, including a local market visit, cooking class, traditional meal and transportation to and from a guests hotel. With the pictures from the ambassadors and information from the application questionnaire the team developed our profile. It really looks great.
For the local market tour, we take you to the spice section, recycling area, where cereals are sold and the vegetable markets. During the market tour we help you engage your five senses: see the settings of the market, smell some spices, taste pepper or chick bean powder, feel the finest cereal called teff (to make Injera) and listen to the locals exchanging. We teach you the ingredients we source from the market before it appears on the plate. The locals at keta market are not used to foreigners and will follow or watch you while you are visiting. However, they are friendly and welcoming.
Once you are at our home, you will be introduced to the family members including my wife Tigist who conducts the cooking class and my three boys Ebba, Moti and Kaku. The boys are home only during weekends and when the school is closed (June, July and August). Then, you cook one dish from scratch with the help from Tigist; as well as clean, roast and grind coffee beans. Moreover, you will also pour Injera – our staple food. Finally, you will enjoy a traditional meal, sharing with the family from one plate.
Our first guests were from China, John and Vida, and their two daughters. I met them at their hotel and took them to Keta market where they learned about the spices, cereals and vegetables. Vida loved the spice market and bought spices to take home. Then, we went back to my home which is only 5-10 minutes' drive away, and met my family. We shared traditional food together from one plate, mainly vegetables including cabbage, lentils, bean sauce, cheese, green bean with carrots and some beef meat. After the meal, Tigist taught Vida how to cook bean sauce, pour Injera and roast coffee beans. My boys, Ebba and Moti enjoyed talking to the family and registered them as our first Traveling Spoon guests.
Our second guests were Kristina and her family from Sweden who were keen to learn about preparing good coffee. During the market visit I helped them to buy quality coffee, spices and coffee pot.
Both Tigist and my boys are improving their communication skills and gaining confidence by talking to foreigners in English. Personally I enjoy sitting together and talking to people from different backgrounds and expertise and showing them my country. I am sure that some of the relationships will evolve into long term friendships."
Daniel is an experienced guide and has also set up his own tour operating company, and offers specialist tours across Ethiopia: www.sourceethiopia.com
Being resourceful during the Covid 19 lockdown, Daniel has developed an online experience: https://www.travelingspoon.com/onlinecookingclasses/ethiopianinjera
Acorn Tourism is currently working with Traveling Spoon to identify hosts in rural Ireland.
@TravelingSpoon
#landoforigins
#ethiopiancuisine
#foodtourism
#foodexperiences
#eatauthentic
Related
0 Comments