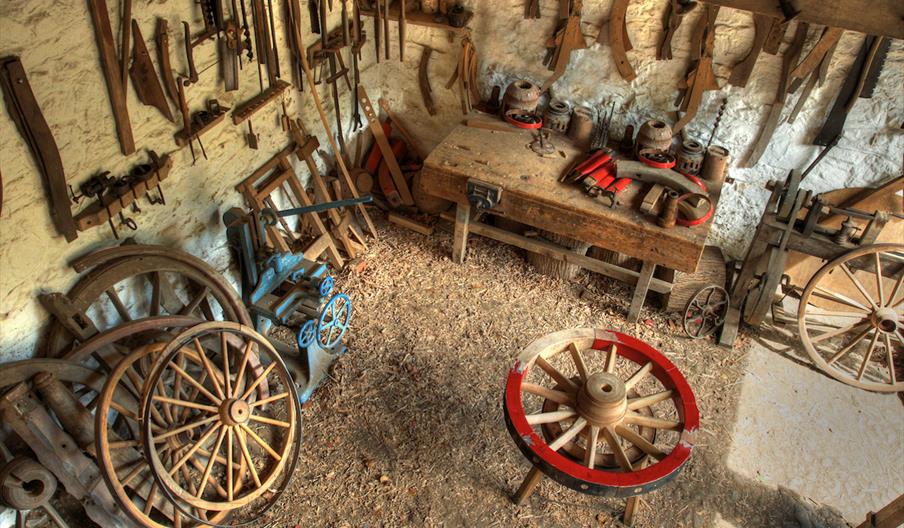 About
Summary
Acorn proposed developing this wheelwright and blacksmith yard into a working museum with a blacksmith employed to operate the site. These proposals helped Chedham's Yard to win funding from the BBC's Restoration Village and the Heritage Lottery Fund.
William 'Bill' Chedham did his final day's work as a wheelwright and blacksmith in the 1970's. Since then his traditional wheelwrights' workshop and tools had remained untouched.
Wellesbourne Parish Council bought Chedham's Yard on the basis they would create a living, working environment that preserved the Yard's atmosphere and enabled a wider community to access, understand and enjoy the historic craft. They commissioned Acorn, working with close associates PLB, to help them identify how they could achieve this vision.
Our Approach
Based on a site assessment and an initial market review, the SWOT analysis we conducted, with heritage specialist Carolyn Lloyd Brown, highlighted the need for:
A Conservation Statement to record and catalogue the contents of the workshop
Community support to take the project forward;
Limited access for large numbers of visitors yet the need for the site to generate income.
We then conducted an interpretive, education and market appraisal so that we could identify four feasible options for the future of Chedham's Yard: the options ranged from minimal intervention but using the site for research; relocation to a more accessible site; creation of a heritage attraction and/or re-using the site for contemporary blacksmith's workshops and training.
Outcome
The local community provided enormous support for the project, which was entered for, and won, the BBC's Restoration Village programme. The Yard's contents were catalogued, and it has now been developed as a working museum with a working blacksmith employed to operate from the site, to provide training and act as an educational resource for local schools. All of these ideas were suggested in Acorn's original options appraisal.
Directions
Public Transport Directions
"Chedham's Yard is an important and … well preserved example of a once commonplace aspect of the rural scene… the traditional village industry of the wheelwright and blacksmith, which went into serious decline in the middle of the 20th century."
English Heritage