India is Travelling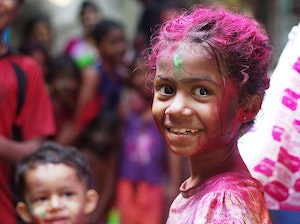 As the world's 7th largest travel and tourism economy, India contributes USD 234 billion to the travel and tourism sector. The country has been experiencing strong growth in travel, making sure the eyes of the world is on the country as a rapidly expanding market for International destinations and businesses. No longer weighed down by its tag as an emerging market, India has firmly placed itself as a top source for travellers for various countries.
Being the world's second largest population and fastest growing major economy, makes India a safe investment bet for destinations and tourism brand alike. India is able to wield its sheer numerical muscle and that makes destinations stand up and take notice. The large population allows curating and showcasing unique and different aspects of a destination to select interest groups. India is an incredibly diverse country in terms of language, religion and cultures, which directly impact the travel behaviour. The challenge for destinations and brands is to identify these differences and tweak their product offering with greater sensitivity and thought. At the same time, talking to the Indian traveller is easy because of familiarity with English versus China or other large markets such as Brazil or Russia. A large English-speaking base, receptive tourism media, acceptance of Western culture and ways mean International stakeholders have a compelling reason to invest in India.
Second only to China, the UNWTO (United Nations World Tourism Organisation) predicts that the 20 million outbound Indian travellers in 2015 will reach to 30 million by 2020. Of these travellers, business travel would account for the largest share and honeymoon, leisure travel and VFR (visit friends and family) would account for the rest. A large Indian diaspora in nations like the USA, UK, Australia, Middle East and Singapore, means that VFR accounts for sizable numbers of travellers, who also spend a lot of time visiting attractions, eating in restaurants and shopping.
What further complements the case for India, as a top outbound market is the fast-growing middle class. More than 40 million households make up India's vibrant middle class. With robust numbers and sustainable investment in the sector, India promises to be a dynamic contributor to the world travel economy.
India Is Growing
Even though during the last few years the growth of the world economy was insipid, India set itself to a GDP growth rate of around 7.4%. In step with its ambitious plans, India has targeted a GDP growth rate of 8.2% for 2018-19. The result for the travel and tourism industry has been equally heartening, making India one of the fastest growing outbound travel markets in the world.
Along with more money to spend, increasing flight connectivity, e-visas and visa arrival schemes and travel loans have provided outbound travel a real fillip. The World Bank plans to lend $20 billion to $25 billion in the next five years for investment in travel infrastructure along with human resources to further boost outbound and inbound travel.
India Is Young & Diverse
This is an exciting time for International travel and tourism to steer their focus on the young and growing Indian demography. With a population that is expected to overtake China as the world's largest by 2023, India draws great strength from numbers – especially its youth. India's youth (15-24 years) constitutes more than 30% of the total population, of which a large proportion live in urban environments and consume Western media in ever growing numbers and is positively inclined towards the rest of the world.
As the most vibrant and innovative demography of a nation, the youth cannot be ignored. This segment is influenced by social media communities and is hungry for experiences. The major difference as compared to the earlier generation is their relationship with money. The youth of India are willing to spend, rather than save everything. They value adventures and experiences over steady savings. The second change has been in the world of technology. Their actions are triggered by technology and the adoption rate in India is excellent. The infusion of smart phones and Internet services to Tier II and III cities has rapidly changed the purchasing behaviour of this demographic. A quarter of the Indian population (337 million), uses a smart phone. This means, that there has been emergence of innovative ways to engage with this key demography. Several international brands have used this to pave way into their minds. In the sphere of travel, there are ingenious and affordable packages, inspiration from bloggers and other influencers, that set the tone for their travel choices in the future.
Integrated Marketing Services
It is no wonder that India is a country of interesting paradoxes, owing to its vast population and mammoth diversity in culture, language and religion. Communication to a particular segment of travellers needs to be highly customized for maximum impact. Cookie-cutter marketing techniques fail when talking to a large and diverse demography such as India. Acorn and Blogilicious are working together to provide integrated marketing services responding to each section separately with 'out of the box' and effective ideas.
Influencer Marketing
An already engaged audience is half the work done for a brand. What better than using our base of hundreds of top travel and lifestyle influencers from India to sell your story. Through our strong partnerships with influencers, we can ensure that your content reaches the right audience. We help curate the content, choose the right influencers, negotiate the best deals and set deliverables for maximum ROI.
Content Marketing
When the audience is getting bombarded with information, we help your brand stand out through informative and innovative videos, articles and podcasts that provide timely information and inspiration to the travellers considering their next getaway. We ensure that the messaging is authentic and making good storytelling the foundation of our content marketing efforts.
FAM Trips
Our integrated marketing strategy includes planning and executing bespoke FAM trips for Indian influencers and journalists to travel so that they can spread the word about your destination or brand. At the same time, we also help you visit India and meet key travel influencers and enablers to better understand the dynamics of this complex market.
Digital Marketing
We help drive brand awareness and create long-term leads through digital marketing. Our expertise with social media channels, native advertising, search engine marketing (SEM) and search engine optimization (SEO), will help your website and channels generate India specific and engagement.
Websites
A website is the first step to creating a digital identity. We help brands create a digital address that is uniquely suited to inform and inspire Indian travellers. We also offer post development maintenance and SEO. We use popular and secure platforms that make design and updating easy and customisable.
Public Relations
We can help you reach English and vernacular publications in all the most important travel markets in India. Having established and nurtured strong relationships with senior print, digital and tv journalists, we can help your brand or destination reach the right audience through mainstream media channels.
Related
0 Comments