Embedding sustainable practices into all aspects of a tourism business has become more common these days. It is widely understood that sustainability is key to minimise the negative impacts (such as over tourism, exploitation of children and wild animals, inauthentic tourism activities and poorly paid seasonal jobs) and maximise the positive impacts (such as promoting cultural heritage, job creation for economic independence, protection of wildlife species and habitats, job creation, community-led tourism).
The COVID-19 pandemic has led to consumers re-evaluating what is important and the health of the planet has become a key issue to them. Climate change leading to soaring temperatures, wildfires, floods and other extreme weather events is now widely accepted as a direct result of human behaviour and countries, governments and their nationals are seeking to reduce carbon emissions as a matter of urgency. To achieve carbon emissions of net zero by 2050 is a global commitment for many countries around the world.
With many elements of sustainability to address within any business, the process towards sustainability and net zero carbon emissions is a gradual one. However, building in responsible operational practices that covers all areas of the business will help local operators play their part in the generation of a healthy future for the tourism sector, the local environment and resident communities.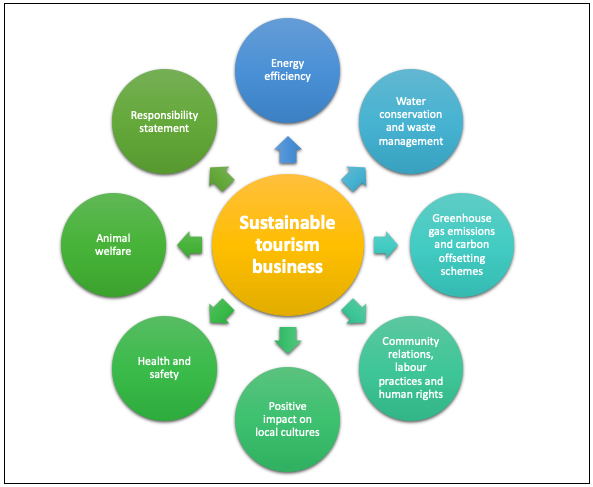 Therefore, tourism is well-placed to help meet local, national and global sustainability commitments with the implementation of sustainable actions across all operations. To meet visitors' expectations for sustainability, tourism businesses can attract travellers by paying attention to:
Community well-being, for instance by contributing to poverty alleviation
Community participation
Preserving/protecting cultural assets
Fair distribution of socio-economic benefits, for instance, employment and income
Ensuring activities are feasible long-term economic operations
Ensuring activities provide stable employment opportunities
Making optimal use of environmental resources
Minimising energy use and waste disposal
Conservation of natural and cultural heritage
Conservation of biodiversity
Acorn Tourism has a wide range of tools to support destinations towards a more sustainable tourism industry and create resilient destinations that meet their goals as well as visitor expectations. Find out more about our work as a Green Destinations representative.
Related
0 Comments