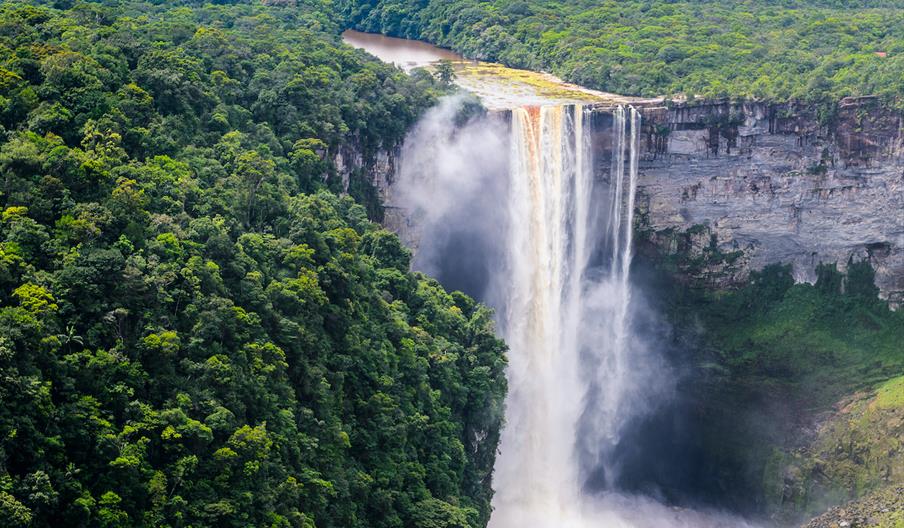 About
Summary
Guyana, with a population of only 750,000 people of which 90% live on the coast, has one of only four pristine rainforests left in the world. Tourists can enjoy a lively coastal Caribbean vibe combined with a wilderness Amazonian experience staying in community-owned ecolodges. In 2014 Guyana was virtually unknown as a tourist destination and Acorn was commissioned by the Ministry of Tourism, Industry and Commerce to develop a fresh, new brand identity and marketing strategy for Guyana.
Acorn Tourism developed Guyana's national destination Branding and Marketing Strategy and Digital Marketing Strategy in 2014, as part of the Inter-American Development Bank funded Support for Competitiveness Programme. In 2017 Acorn was commissioned to produce the national marketing videos and in 2018 the Guyana Tourism Authority commissioned Acorn to implement the Digital Marketing Strategy for one year.​​​​​
Our Approach
To establish the existing level of awareness of Guyana and identify the most valuable market segments to target, Acorn led an international team to undertake focus groups, online panel surveys and tour operator consultations in the source markets of North America, Europe, the Caribbean and Brazil.
In Guyana, stakeholder engagement workshops and consultations in the capital Georgetown and with the indigenous tribes and local lodge owners in the interior informed the development of the Guyana brand identity.
A Branding Working Group, representing a breadth of stakeholders, was established to steer the branding process and to be Ambassadors for the brand implementation.
Robust analysis of market demand, priority market segments, product development potential and stakeholder aspirations, informed the vision, marketing goals and objectives of the Marketing, Branding and Promotional Strategy.
The consumer research clearly identified that for potential visitors in the source markets Guyana's greatest appeal was its untouched rainforest which hadn't yet been discovered by tourists. However, they were unable to locate Guyana on the map and it was frequently confused with Ghana in Africa. It was therefore a priority to position Guyana in South America and highlight its rich rainforest and rivers.
Outcome
The Branding and Marketing Strategy was approved by both Cabinet and the Tourism and Hospitality Association of Guyana (THAG). The new Guyana: South America Undiscovered brand designs were implemented by both the Guyana Tourism Authority (GTA) and THAG. Subsequent Ministers of Tourism used the Marketing Strategy and Action Plan as their roadmap for Guyana's development into an internationally recognised ecotourism destination.
In 2017, the GTA commissioned Acorn to produce 7 marketing videos to promote Guyana's adventure, wildlife, nature, culture and indigenous ecotourism offer. These award winning videos were also edited to create an additional 30 short clips for use on social media and digital campaigns.
In 2018, Acorn was contracted by the GTA to implement the Digital Marketing Strategy. We provided integrated digital marketing activities creating content: designing, writing and launching the new Destination Guyana website www.guyanatourism.com and Blog, generating and syndicating content, managing the official Discover Guyana Facebook, Twitter and Instagram channels and the content marketing and PPC campaigns. During 2018-19 we developed Guyana's distinctive brand voice and created high levels of engagement that surpassed most of Guyana's regional competitors.
Directions
Public Transport Directions
​​​​​​Acorn Tourism successfully completed this assignment within the specified timeframe and within the proposed budget. The new logo and tagline line was recently launched by the Minister of Tourism, Industry and Commerce at the opening of Guyana's Tourism Month in October 2014.
Rhonda Nelson, Programme Coordinator, Ministry of Tourism Industry and Commerce.