Some may tell you that there is no magic potion for success in business, whatever industry, or sector one is working in. We disagree. There is one principle that, if followed, will almost always bring success: undersell and over-deliver.
Expected versus Perceived service
Customer satisfaction occurs when customers' expectations of the service they receive are met or exceeded by the service delivery. When expectations of a service are not met, customers will be dissatisfied.
Marketing can be a powerful tool for a brand to establish its image, disseminate its unique selling points, share its values, promote its services, and attract customers. These marketing activities will contribute to the expectation a customer has of a service – before they even experience it. Marketing is not the only factor affecting this expectation of a service. Past experiences, personal needs and word of mouth will also have influence; therefore, different customers will have different expectations.
An organisation's service delivery and external communication with the customer will contribute to shaping a customer's perception of a service. When this service matches or exceeds the customer's expectations, the customer will be satisfied. A perceived service that does not meet the expected service will lead to dissatisfied customers.
The Service Quality Gap Model created to help understand customer satisfaction and how it can be affected by the service delivery, illustrates this as Gap 5. All other gaps outlined in this model highlight the most common communication challenges that can result in a disconnection between customers' expected and perceived services.
Figure 1: The Service Quality Gap Model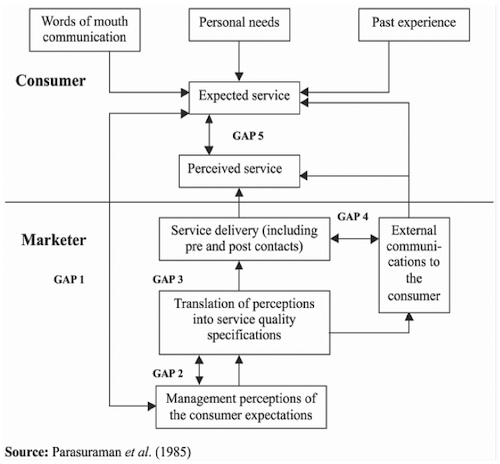 Why undersell and over deliver?
When applying this model, there are two strategies to make sure that the perceived service matches or exceeds expectations:
Undersell: to make sure that customers' expectations will not be too high, and therefore, easier to match or exceed. But don't undersell to the point that customers will not find the brand attractive. That may lead to reduced number of visitors.
Over-deliver: to make sure that the perceived service matches or exceeds customers' expectations. To do so, start by ensuring that each gap from the Service Quality Gap model is bridged. You must find out what their expectations are, and then, go above and beyond to exceed them.
Doing both is the magic potion to ensure that all customers are satisfied with the services provided. And everyone knows that satisfied customers are key to growing a business.
Satisfied customers are more likely to become return customers.
It costs on average five times as much to attract new customers as it does to keep an existing one, making return customers much more cost-efficient for any business.
Satisfied customers are more likely to spread positive word-of-mouth.
Consumers increasingly trust personal recommendations rather than traditional marketing activities. Positive word of mouth or positive reviews on social media or directly to friends and family can lead to improved brand reputation and new customers.
Satisfied customers are more likely to become brand ambassadors.
Brand ambassadors are customers that will actively promote a brand to their network because they believe in it, increasing the brand's reputation, credibility, and reach.
Related
0 Comments