As a local tour operator or tourism business in a developing country seeking to attract visitors from Europe, having a sound understanding of the niche tourism market you're targeting is crucial for success. Acorn Tourism has been working with the CBI, the Netherlands Enterprise Centre, to produce a wide range of business guides that cover a multitude of niche markets and consumer segments to help SMEs all over the world to make the right decisions.
Deciding which niche is best to target requires some careful consideration and to that end, Acorn and the CBI have put together an interactive infographic to help organisations navigate their way through the complex structure of tourism niches.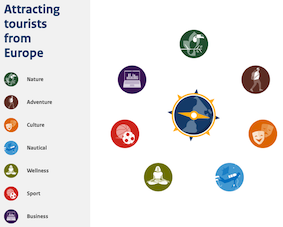 Seven Primary Segments (Nature, Adventure, Culture, Nautical, Wellness, Sport and Business) were identified with a further 24 Niche Markets further classified, culminating in a user-friendly interactive infographic that displays and guides the user through the numerous crossovers and linkages between tourism niches. So for instance, Diving Tourism is a niche of three primary segments, Nautical, Adventure and Sport Tourism.
However, the infographic will also inform a tour operator who wants to target the diving market that they should also consider whether they could target additional Specialist Niches such as Wreck Diving, Cold Water Diving or Cave Diving, and Passion Groups such as Free Diving Competitions.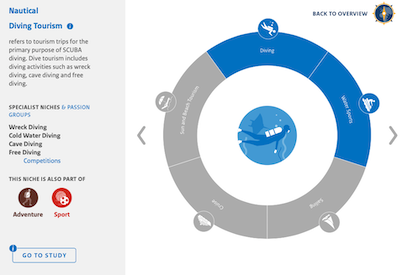 This level of detail provides important market intelligence for tour operators seeking to specialise in Diving Tourism and understand how they can differentiate themselves from other diving operators.
For the past two years Acorn has also been researching and writing a series of detailed niche tourism market reports for CBI's website. They provide in-depth insights into each niche market and segment audiences and are packed with tips on how SME tour operators can create experiences and activities that will appeal to them. They also provide practical information on how to reach potential trade buyers and direct clients.
Links to these detailed market research studies of many of the Primary Segments and Niche Markets are incorporated into the infographic. It's an easy way for tour operators to access information that helps them build further knowledge about developing suitable tourism products for the European market.
You can view the infographic here, Attracting Tourists from Europe
Related
0 Comments