Local trackers are all those things that relate specifically to your destination (excluding accommodation and attraction captured directly from businesses). Whilst local trackers vary from destination to destination, typically users of T-Stats include:
Airbnb accommodation
Weather statistics
Tourist Information Centre footfall and operations
Footfall in city and town centres
Car park utilisation
Public transport link arrivals
Website and social media statistics
We say to destinations: if you can measure it on a regular basis (daily or monthly) and it's something you are interested in tracking, we can include it in T-Stats.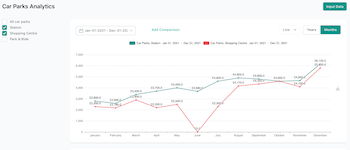 T-Stats makes it very easy to follow trends with all of these trackers by creating year-on-year comparisons and selecting the type of chart you are interested in. All charts can be exported so they can be used in presentations and other reports.
T-Stats automatically updates your Airbnb and Weather trackers on a monthly basis. This means that you always have at hand the latest occupancy, average rental rate and various other Airbnb data, as well as weather rainfall, sunshine hours, and average temperatures.
Automatic links to your social media and website pages mean these data can also be pulled into the system without you having to lift a finger, allowing you to analyse your digital marketing indicators with a few clicks.
All other data can be added quickly and easily through the data entry system. We can do this for you, if you provide us with access to the data on a monthly basis, or you can do it yourselves. Either way, it's quick and easy, and highly effective.