Events, such as festivals, exhibitions, and sporting challenges are effective ways for destinations to attract visitors, increase expenditure, and provide a boost to local businesses. By tracking events it makes it possible to monitor the effect they have on the local economy, such as room occupancy, footfall, visitors to attractions, etc.
T-Stats tracks events through a calendar (see below). The calendar is colour coded by type of event (sports, arts, etc) and events are placed in the calendar with the known (or estimated) number of visitors expected each day.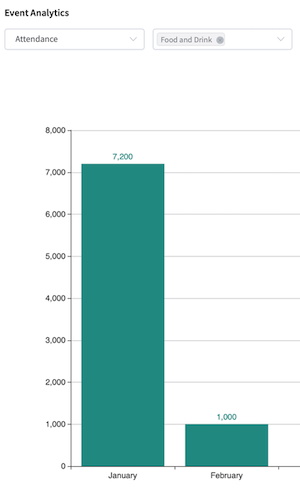 T-Stats makes it very easy to track the number of event visitors to your destination by day, month or year, simply by selecting they type of event you want to analyse and the period you are interested in.
Accommodation establishments and other businesses particularly enjoy this feature of T-Stats as they can use it as an advance planner by seeing what days there are likely to be particularly high demand.
Usually it is the Destination Management Organisation (or equivalent) which looks after the calendar, keeping it up-to-date. It is extremely easy to add events, with just the date, event name and type, and estimate of visitors per day required. It takes less than a minute to add an event to the system.