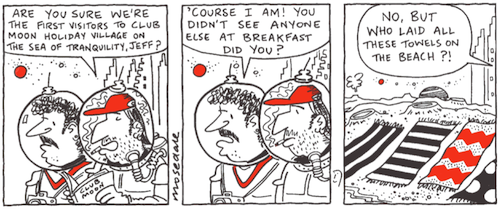 Back to the future! Kevin Millington, Director of Acorn, set up his first tourism consultancy firm Crusader Consulting Ltd 21 years ago (a forerunner to Acorn Tourism Consulting Ltd, which emerged six years later) - and it was the future that launched the firm back in 1996.
Tourism 2020 Vision, commissioned by the World Tourism Organisation (UNWTO), was Crusader's first contract. Working with Robert Cleverdon Associates, the aim was to predict what tourism would look like in 2020. So before we look at what we've been up to over the last 21 years it would only be right to present our credentials by investigating our vision then for tourism in 2020!
Well, we are delighted to report that our forecast of 1.6 billion international tourist arrivals in 2020 looks like being almost spot on! In 2016, the UNWTO reported over 1.2 billion tourist arrivals worldwide, and current growth rates indicate this reaching at least 1.5 billion by 2020. However, our forecast of tourists spending US$ 2 trillion by 2020 looks a little overcooked – current data suggests it will be around US$ 1.6 trillion.
We predicted that the most visited tourist destinations in 2020 would be China, France, and USA, in that order. Today France and USA occupy the top two places, followed by Spain, with China in 4th place, but rapidly climbing. There's a good chance it will be in the top spot by 2020.
The Tourism 2020 Vision work led us to focus on the future of tourism, and we set up a publication called Tourism Trendspotter on the back of this expertise. Matt 'n' Jeff were the two ignorant and politically incorrect tourists that brought to life some of our forecasts. They ended up as space tourists, visiting the Antarctic, taking religious tourism trips, and purchasing holidays on the Internet (yes, back in the late 1990s that was still quite a novel concept!)
Whilst we predicted strong growth in segments such as adventure tourism, cruises, and thematic tourism over the period to 2020, our suggestion that space tourism would be commonplace, albeit not mass-market, is still a little premature!
So having started off trying to predict where we would be today, and I think making a reasonable job of it, what have we been doing in the intervening 21 years?
Well, essentially it has been a grand tour of the globe. We've worked in 72 countries in every continent: that is over one third of the world's countries. There are some areas we've been to more than others. Africa is well trodden, and so is the Middle East and, naturally, the United Kingdom. Some destinations that held so much promise during our studies now lie in ruins, most notably Syria, Libya, and Yemen. Small islands have become a speciality. Most of the tiny islands of the South Pacific have been the focus of some of Acorn's work, including the wonderfully remote Tuvalu, which holds the honour of being the least visited country in the world! Other beautiful and remote destinations we have worked in include Saint Helena in the South Atlantic (five days on a ship) and the Falkland Islands and we're currently working with 12 Caribbean islands including the Colombian owned Isla de Providencia.
Twenty-one years ago we predicted huge growth in adventure tourism by 2020, and in particular suggested that as the world becomes increasingly explored there will be a trend of tourists travelling to high places, under water, to the ends of the earth, and off the planet itself. The World Tourism Organisation organised a conference around this forecast, and it became known as Mountain High – Ocean Deep – Ends of the Earth – Moon and Space.
Interestingly, that closely reflects our work today. We're up in the mountains in Lesotho developing high altitude tourism; we are working on an exciting and (at present confidential) underwater project; we are marketing a destination on the edge of the Antarctic - the Falkland Islands; and, well we've not made it into space yet, but Matt 'n' Jeff are still up there, somewhere!
Kevin Millington, Director, Acorn Tourism Consulting Ltd
October 2017
@Acorntourism
Related
0 Comments